See and Feel the Quality of our Tiles
Stiled Outdoor Show Garden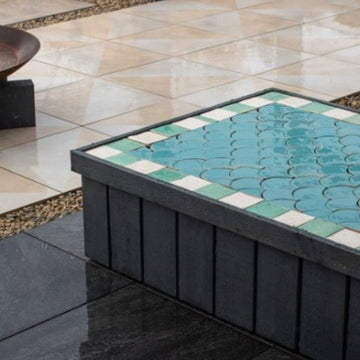 Actual Sized Tiles
This is very helpful to appreciate the full scale of our tiles as many of them are large in scale and you get a real appreciation of the variation of patterns and textures of each range.
Industry Expertise
With over 50 years in the tile industry and a passion for design and attention to detail, we are here to give you the best advice form tile selection, layout and installation.  
Inspiration & Layout Ideas
The aim of the Show Garden is to show you interesting ways that you can combine tiles and add colour and pattern.  Layout options can be challenging to visualise and so it is really helpful to see these installed and the effects they create.
How To Find Us
Location
Culworth Grounds, Thorpe Mandeville, Banbury OX17 2HW
Garden Hours
Mon-Fri 9:00am - 17:00
Mon-Fri No appointment required
Saturday 10:00am - 17:00 (Please call for an appointment)
Phone
07907 040301