Porcelain Paving Installations
The advantages of outdoor porcelain floor tiles compared to its stone counterparts in relation to durability, look, texture, finish and low maintenance and good as new appearance is why it is such a great choice for our customers. By making sure that the installation is carried out correctly by a professional tiler, you will ensure that long lasting, sleek even finish you want. We have provided this guidance to help you understand the correct processes and options for laying your tiles and which would be most suitable for your unique outside space.
Laying onto Mortar
Difficult. Quick. ££
You have to clear and cut the area you want to pave and then add Type1 MOT gravel and dust.  Then compact with machine to a depth approximately 75-100mm.
Care needs to be taken to allow a fall to let rain water to fall away from your building.  If this isn't possible you can install rainwater drainage instead near your building.
Simply then, mix mortar and sand (unless using premixed mortar) with water. You should be able to make a ball when compacted between your hands. The final stage is to spread enough mixed mortar on top of your Type1 MOT base at a depth of at least 35mm per tile.The slurry primer is then applied to the back of the tile and then lay it and mallet into position.
Adhering onto a Concrete Slab
Easy. Quick. ££
Although once in place, the laying of the tiles is relatively quick, the pouring of the slab including drying time (approx 6 weeks weather dependent) can be a lengthy process.  Note, the tiles are usually laid by interior tiling methods such as tile adhesive.
This method can support any thickness of tile and must be used for laying our thinner (less than 2cm) indoor tiles using the appropriate floor adhesive and grout.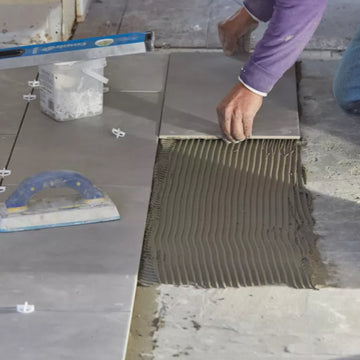 Pedestals
Easy. Quick. £££
This is an incredibly easy option for laying self- supporting 2cm thick tiles, with no need for either grout or adhesive, all you need is a solid base to put them on. Pedestals are mainly placed at the 4 corners of the tile but depending on our range you may need to add further ones to the middle.  We have provided a diagram for each range on our product pages for you to refer to.This method is great for balconies and terraces as the tiles can be easily removed for underfloor access.  They also provide good drainage when laid on an inclination because of the open joint and the water freely flows from the tiled surface.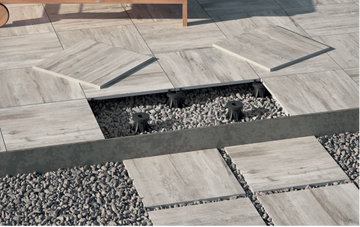 Loose Lay
Easy. Quick. £
An easy and cost effective way of laying our 2cm thick porcelain tiles. You can simply lay our tiles directly onto concrete slabs, a method highly suitable for roof terraces. 
You can lay on grass, simply cutting away where you want the tiles, making sure the tile lays flush with the surface. For an on trend look lay directly on solid even ground, space apart and fill gaps with small decorative pebbles.
The key point is that the heavy weight of our 2cm tile keeps the tile firmly in place.