News
Top 8 Questions About Outdoor Porcelain Tiles
by Sally Littlestone on Feb 01, 2023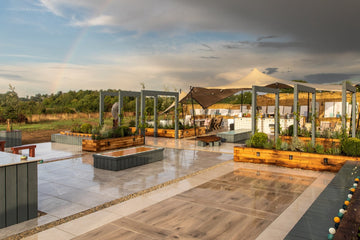 Outdoor porcelain tiles are a good choice for many outdoor paving settings because they are a hard, durable and low maintenance material that is resistant to scratches, moisture, and stains.  We believe that the attention to detail that's been previously given to our interiors is now being expanded to our outdoor living spaces.  Additionally, gardens have become more important than ever for our well-being, so the choice of that perfect patio has never been more important.  
Top 8 Questions About Outdoor Porcelain Tiles
The following top 8 questions about outdoor porcelain tiles will help you better understand the huge advantages of using sustainable porcelain tiles over stone and wood for any outdoor setting.
Are outdoor porcelain tiles anti slip?  The granularity of the surface of outdoor porcelain tiles means that it is perfect for any external space that is exposed to water.

Are outdoor porcelain tiles scratch-resistant?  Porcelain is extremely durable and is far less likely to scratch when moving heavy furniture, for example

Are outdoor porcelain tiles frost-proof?  Outdoor porcelain tiles can tolerate sub-zero temperatures and this important quality makes it an ideal solution for patios, swimming pools, and hard landscaping for the British climate.

Are outdoor porcelain tiles low maintenance?  The low porosity of outdoor porcelain tiles mean they never need laborious sealant treatments and simply require an annual jet wash with warm soapy water.  It also means that spills can be easily cleaned off and won't stain.

Do outdoor porcelain tiles have a lifetime value?  The longevity of the product means it represents exceptional value over its lifecycle compared to natural stone and wood.

How do you lay outdoor porcelain tiles onto mortar?  

You have to clear and cut the area you want to pave and then add Type1 MOT gravel and dust.  Then compact with machine to a depth of approximately 75-100mm.  Care needs to be taken to allow a fall to let rain water to fall away from your building.  If this isn't possible, you can install rainwater drainage instead near your building.  Simply then, mix

mortar

and sand (unless using premixed mortar) with water.  You should be able to make a ball when compacted between your hands.  The final stage is to spread enough mixed mortar on top of your Type1 MOT base at a dept of at least 35mm per tile.  The slurry primer is then applied to the back of the tile and then lay it and mallet into position.  

How do you adhere porcelain tiles to a concrete slab?  Although once in place, the laying of the tiles is relatively quick, the pouring of the slab, including drying time (approx, 6 weeks, weather dependent) can be a lengthy process.  Note, the tiles are usually laid by interior tiling methods such as tile adhesive.  

How do you lay porcelain tiles on a pedestal?  This is an incredibly easy option for laying self-supporting 2cm thick tiles, with no need for either grout or adhesive, all you need is a solid base to put them on.  Pedestals are mainly placed at the 4 corners of the tile, but depending on our range, you may need to add further ones to the middle.  This method is great for balconies and terraces as the tiles can be easily removed for underfloor access.  They also provide good drainage when laid on an incliation because of the open joint and the water freely flows from the tiled surface.
Through our experience of the interior tile market, we wanted to bring you the huge advantages of using
sustainable porcelain
over stone and wood for any outdoor setting, where the creative design possibilities are endless.