News
How To Create The Perfect Alfresco Dining Experience
by Sally Littlestone on Jan 25, 2023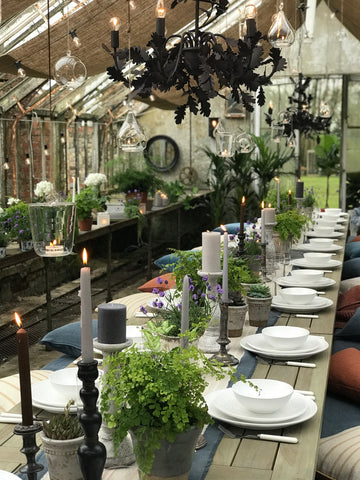 Outdoor dining in the UK is becoming increasingly popular. Technology and clever design have meant alfresco dining is no longer the remit of people living in sunnier climes. The British public are investing money in their outdoor spaces and wanting to spend a greater time of the year enjoying it. Almost 40% of British people have renewed their outdoor spaces in the last 5 years. The motivation for this has been to increase areas of relaxation and to create extra living spaces.
Over 15% of us are already regularly eating outside and many more would do the same if they could improve their outdoor space. Once cleverly designed, your space can serve as an extra room and you can also enjoy that alfresco dining lifestyle.
Flooring - best for alfresco dining
Porcelain is the perfect practical solution for transforming your outdoor space because of its high durability, frost, crack and stain-proof properties and non-slip R11rating.  You can create any look you like, be it wood (decking), marble, natural stone effect, with none of the disadvantages.  You can also create clever zoning effects and, using patterned outdoor tiles, even a highly attractive rug effect.  To create a seamless transition from your home to the outdoors, you can use matching porcelain tiles. Indoor tiles are usually thinner (1cm thick) than your outdoor ones (2cm thick).  The design and size can be the same.     
Ideally, for ease, you want your alfresco dining area to be close to the house, preferably with a cover like an awning. These can be remotely controlled.  
Indigo Awnings
offer the largest range of high quality awnings in the UK.
Garden furniture isn't always the most comfortable and so it's really important to spend time making this a priority and to have good storage space nearby for soft cushions and throw blankets etc.  
Planting - to benefit alfresco dining
Consider growing herbs and scented flowers near your dining area.
There is great flexibility to this and, with advances in solar lighting, you may not need to have electrics installed.
This is a very important consideration to make eating outside pleasurable throughout the year and at nighttime.  
Herschel Infrared
 stock incredible heaters which can fit in all alfresco dining situations.
If you liked this post, then you'll also like